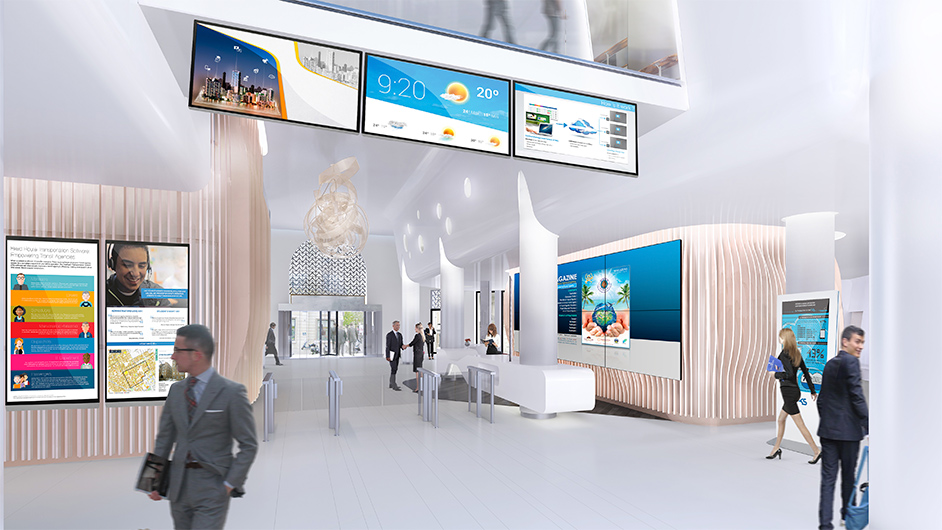 The digital signage market is massive!
A lot of firms, businesses, and organizations are already incorporating it in their operations, or have plans of doing so soon. This is because business administrators know and understand its importance. 
Not only is it a strong communication tool that attracts customers, it is also one that helps businesses cut down operating costs, while maintaining and improving efficiency. Thanks to digital signage, companies have been able to make communication with clients and employees easy, improving productivity, engagement, and profits in the process. 
So, it's no surprise that the digital signage market is massive. Statistics back up this claim too. 
Several researches and studies show impressive statistics on digital signage and its effectiveness across various industries. In fact, these studies and researches predict that the digital signage industry will continue to grow for at least the next couple of years. 
Below are some digital signage statistics spread out across varying industries that will make a believer out of any skeptic:
Restaurants
Thanks to digital menu boards, restaurants can easily update their menu and make their ordering processes faster and easier. Restaurants are also provided with an engaging and stimulating platform that allows them update and display their specials. 
The stats tell us that: 
Almost 30% of customers think digital menus influence their purchase of a restaurant's special.

Quick service restaurants that use digital menu boards make up at least 1 out of 5 of the digital signage industry. 

Digital signage increases transaction margins by an average of 3%. 

74% of interviewed customers said they would prefer an easy-to-understand menu display at all times. 

80% of customers purchased something not budgeted for, simply because it was promoted on a digital sign. 
Healthcare
A clinic or hospital is another place where information and how it is passed is very important. Due to the delicacy of life and how wrong information could cause one or two harms, information has to be passed promptly and easily. Digital signage systems have helped improve how information is passed in the healthcare system. 
See what the statistics say: 
4 out of 5 patients say they prefer digital health solutions to traditional ones. 

52% of patients believe they obtain health information from digital signage. 

At least 7 out of 10 hospitals have incorporated the use of digital communication systems. 

75% of people that see a digital sign in the hospital tend to remember at least one message. 

Inefficient communication (and a lack of digital signage) has cost hospitals at least $12billion on a yearly basis. 

Doctors were found by 27% of their patients through digital messaging.

The digital content of hospitals fully engaged 83% of patients. 

Hospitals and clinics that used displays often saw business operations improve by 15-150%. 

More than 7 out of 10 patients and clinicians say that thanks to viewing hospital messaging on digital signage systems, hospital experience was improved. 
Manufacturing 
The manufacturing industry experiences losses accumulating $170billion every year due to deaths, illnesses, and injuries. This is money that if invested back into businesses will go a long way. To curb these losses, firms and companies have tried incorporating the use of digital signage systems in operations, and statistics show an improvement. 
See for yourself:
Companies make an average $5 in benefits for every $1 they invest in safety-oriented digital solutions. 

Digital signage systems have improved manufacturing workplace engagement by 22%, while reducing quality defects by 41%. 

90% of manufacturing firms and companies make use of digital signage systems to increase productivity and reinforce employee training. 

At least 9 out of 10 manufacturing firms and companies use digital signs to make audience experience better during product displays at exhibitions and trade shows. 

Health and communications through digital channels have brought about 20% reduction in illness and injury rates. 
Education 
Students need instructions often to get around their day-to-day activities. And since students are almost always tech-savvy and tech-oriented, the use of digital signage has never made more sense for an industry. 
Over 4 out of 10 schools do not have instructions for how to navigate emergencies in their labs and facilities. With digital signage, emergency messaging can be better passed. 

96% of students believe that the use of videos improve their learning experience. 

The same percentage of students claim to spot digital signage immediately, memorize and remember its content with ease. 

9 out of 10 students prefer to receive information via digital channels rather than from a non-digital source.

Digital signage solutions have helped reduce stress amongst students by 45%, improved their class preparations by 67%, improved their academic efficiency by 57%, and improved their confidence by 46%. 

At least 7 out of 10 colleges have digital systems installed on their campuses. 

73% of schools combined agree that the future of communication in education lies in going digital. 

Every university or college that has gone digital employ these solutions for announcements and institutional news. This particular stat also show that 14% of these schools use digital solutions for third-party advertising, 43% use them for room signs, 43% use them for wayfinding, 57% use them for emergency notifications and scheduling, while 86% use them for digital menu boards in dining facilities. 

K-12 schools make up 87% of education institutions that have incorporated the use of digital signage systems in the enhancement of communication and lesson plans. 
Banking
For increased customer loyalty, banks have to improve their customer experience. Like all businesses, banks need to use the best digital signage solutions to keep customers happy. Some of the statistics below back up this theory: 
6 out of 10 banks have incorporated digital signage systems to improve communication with customers. Of the messages displayed on these systems, 75% of them are related to banking, while the 25% are related to something else. 

95% of retail banks believe that inside 18 months or less, they get a return on investment from their digital signage deployment. This stat shows general satisfaction. 

7 out of 10 of these banks target their messaging by branch. 

At least 75% of banks outsource their digital signage content compared to the other 25% that produce theirs internally. 
Worship venues
As worship centers increasingly search for ways to attract new members and keep old ones engaged, so many of them have chosen a more visual approach. Thanks to more focus being placed on the entertainment bit of worship, digital signage solutions have become a mainstay in worship venues. The dramatic imagery they provide create a lasting impact within congregations, evoke personal experiences, captivate audiences, and complement the sounds of a band or choir. 
The wide impact of digital signage in worship venues can be seen in these statistics: 
Churches display their social media feeds on digital signage to increase outreach. Now At least 45% of churches say that this method is their most effective in terms of outreach. 

70% of youth Christians prefer to read their scripture on a screen. Now, during sermons, scripture can be displayed on digital signage to enhance engagement during sermons. 

40% of every worship venue now own a website. Plus they are constantly incorporating new technologies to draw and involve the larger community, especially the youths. Digital signage systems can be used to display web pages during service or sermon.

At least 5 out 10 religious organizations make use of projectors and other digital signage systems during sermons. 

Boomer-pastored churches have seen a 72% rise in the use of technology. 

Digital signage solutions have reduced annual costs of printing, paper and photocopying that used to reach $6500 by 76% in churches. 
Retail Customer Interaction
Retailers are not left out in the use of digital signage solutions. They use digital signs to make it easier for customers to finish their shopping journeys, on their own terms. Digital signage solutions have become an integral part of buyers' experiences and retailers are reaping the quantitative and qualitative benefits as shown by the statistics below:
The average purchase amount of products is bumped up by 29.5% by digital signage.

Customer satisfaction in retail businesses get increased by 46% when digital signage systems are incorporated. 

8 out of 10 retailers agree that digital signage solutions create more brand awareness in comparison to traditional channels. 

6 out of 10 retailers that use digital signage solutions claim that an increase in customer engagement was the most obvious benefit of digital signage. 5 of these retailers say the solutions have also helped them improve customer service. 

Digital signage solution are said to have increased repeat buyers for retailers by 32.8%. 

Footfall is reduced by 24% in retail stores were digital signage solutions are implemented. 

Digital signage solutions enhance 60% of the decisions customers make at the point of sale. 

Customers spend 30% more time browsing products in stores that have deployed digital signage.

68% of Americans have paid for a product or service because its signage caught their eye.

76% of American consumers enter stores they have never visited simply because of the signage.

Overall sales volumes in retail businesses experience a 31.8% upswing thanks to digital signage solutions. 

Brand awareness is enhanced by digital signage that blends in perfectly with a company's marketing strategies. More than 4 out of 10 buyers say that their purchasing decisions are influenced by digital signs. 

59% of buyers claim that they were drawn or enticed to learn more about a service, topic, or product at the sight of a digital signage content. 
Employee and Corporate Communication
Progressive companies have made communication their priority. Communication that is clear and engaging directly impacts engagement, which in turn plays a role in productivity. The cycle goes on and on. 
Now what do the statistics tell us? 
Digital signage solutions improve internal communication, which in turn bring increase employee productivity by at least 25% 

In workplaces, employee recognition is enhanced by digital signage. Now statistics also show that employees that feel valued and recognized are 60% more inspired to work harder. 

More than half of the communications experts surveyed agreed to the use of digital signage as a channel. 

56% of internal communication teams have at one point or another, considered making use of digital signage within their firm. 

Digital signage can be used to help employees know what the core values of a company is. This would help reduce the percentage (47) of employees that say they do not know what their company's values are. 

Company presentations that make use of digital visuals are 43% more persuasive than those that do not. 

At least 1 out of every 5 US company makes 'multichannel campaign management' which naturally includes digital signage campaigns. 

Companies report that disengaged employees are 12x more likely to quit their jobs than the ones who are engaged. 

68% of US customer signage reflects the quality of business and its products.

Companies that communicate effectively are 4x more likely to report high levels of employee engagement.
The conclusion of the whole matter; Digital Signage works!
Every statistic above confirms what we already know: digital signage solutions are an extremely useful means of communication. Whether they are used in churches, schools, hospitals, factories, government offices, businesses, or stores, they offer an instant, impactful messaging platform. 
If we pay attention to the statistics above, and thanks to the fact digital signage gets less expensive by the day, it is a no-brainer that the technology will continue to boom in the near future. 
Do you need help setting up an easy-to-use, affordable digital signage system? Feel free to contact us today!