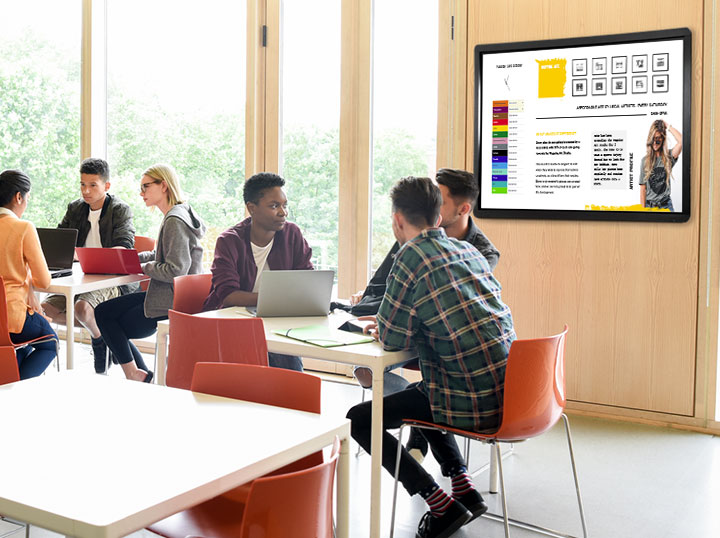 Over the years, the dynamics of every kind of communication has been constantly changed due to a series of technological advancements. Interpersonal communication, communication in the workplace, and even in the education sector have not been left out of the change. Right before the internet and other forms of digital communication came into existence, students in particular have relied on manual and handwritten forms of exchanging information. But now, for the modern students, information is programmed to reach them in amuch different way. According to Digital Signage Today, about 97% of students prefer to receive information digitally. This goes without saying given the ease and speed digital solutions provide. One of those digital solutions that have managed to ingrain itself so deeply in the education sector is the use of digital signage technology. Simply, digital signage as a sub-segment of signage, involves the display of multimedia content on a screen. A large percentage of millennials today spend a good amount of time in front of their screens and this is why educational institutions now seek to produce more digital signage content to better the communication between them and their students. In this article, we'll be sharing how big of arole digital signage plays in education.
1.Wayfinding
Guiding individuals through the physical environment of a school is one of the major roles digital signage plays. This is very essential especially in educational institutions of higher learning. Moving into a new environment and having to adjust to a new set of rules and routine could get overwhelming fast but with digital signage solutions placed in strategic positions around the school, newbies and visitors are able to find their way more quickly. Putting up digital signs that indicate where specific places are and the numbers to call if there is an emergency will give every newcomer a sense of peace and security. They can be placed in every building or popular area where there is a lot of foot traffic to help the newcomers and visitors navigate around the premises.As opposed to printed maps, which could be hard to understand, faded, and also difficult to update in line with institutional changes, digital signage displays are the direct opposites. With the right content, they make wayfinding fast, simplified, and also attention-grabbing. Directions could also be translated in other languages to ensure that students who have the English language as their second language are able to comprehend the information just as fast.
2.Communicate School Events
Better techniques for the timely dissemination of information is a need for every organisation.Especially for one as diverse and large as a school. Printing new fliers and distributing them each time there is new information to pass across is tiring and quite expensive. The reverse is the case when you use digital signage in schools.
With the right digital signage content suited to the particular event, schools are able to informtheir wards of important student-teacher events and make other kinds of announcements. Some of these events include job fairs, extracurricular activities, school sports schedule, concerts, charitable events, office hours, conferences and seminars and their special speakers, club meetings, and even digital menu boards in the school's dining facilities. The options are endless.The beautiful part about using digital signage solutions to pass on information is that it can be easily updated from the control center. This way, whatever information comes in, at any time, can be passed across to the students immediately. This is one of the advantages digital signage has over print forms. To make it inclusive for students from other language communities asides the English language, the content could also be translated.
3.Reinforce Learning
It has been established that people, especially young people, are more attracted to what is displayed on their screens than anything else. This is why it has become imperative to look towards digital signage solutions to enhance the learning of students. Implementing this can be done in several ways. Presentations could be made on a screen, with bullet points and engaging infographics. Educators could also play educational videos relating to the particular topics being studied in class. Asides helping teachers in classrooms,current affairs and world news updates can be displayed on screens throughout the school to ensure that every student is aware of the happenings. Plus, such moves could spark debates and make for engaging discussions in class. It has also been proven that students
are more likely to remember content they see on a screen than any other, so educators can be certain that the information is reaching their audience.Asides making engaging presentations in class or updating students on world events, digital signage can also be used to help lessen distractions. In cases where a class or workshop is going on, room booking systems powered by digital signage could help to indicate that to reduce the interruptions.
4.Make Emergency Announcements
Digital signage is centrally controlled, so educators are able to pass information whenever and wherever in the school premises. This is one feature that makes this technology invaluable, especially in emergency situations. In cases of emergency, the institution could provide succour and direction to students and teachers alike, directing them on what to do and how to do it. In moments of emergency, a disorganised alert tool or evacuation plan will breed confusion, fear and the eventual damage of property or even loss of life. With bright, bold, and timely announcements shared to screens around the campus, institutions are able to communicate with their wards faster and easier. This would be near impossible to do with the traditional emergency alert tools.Following the Virginia Tech Massacre in 2007 that left 27 students and 5 faculty members dead in one shooting, West Virginia University moved from 80 digital screens (which they called InfoStations) to a network of over 140 screens used for 'daily campus-wide, site-specific and automated emergency alert messaging.' This move would ensure that students and staff have access to timely information wherever they may be to avoid a repeat of that gruesome event.
5.Show Highlights Of School Life
There is nothing quite as phenomenal as watching and sharing important highlights of schoollife just as you are about to go into class. It is a great motivator and a beautiful way of encouraging students to do and be more.Great educators have come to understand that focusing on only academic excellence will not guarantee an all round development of the student. Encouraging participation in school activities like sports, club involvements, and other engaging aspects of campus/school life will go a long way in ensuring this development.Digital signage software can help in highlighting some of those important moments in the students' journey. Moments like the school's latest major sporting victory, the time a very important personality graced the school, charity events where the students helped out, school committee meetings, student union campaigns and manifestos, and even social media content from current and past students of the school! The moments are literally endless. All these highlights will go a long way in building school spirit that would help the students feel like they are part of a bigger family.
6.Integrates With Mobiles
A current research carried out by Campus Technology revealed that a whopping 94% of students wished they could use their mobile phones for academic purposes. This statistic gives us a fair view of how popular mobile phone technology is among the younger generation. A good percentage of them also confessed that they find it easier to learn from interactive digital platforms than static print materials.
This need can be met with digital signage technology which makes it possible to sync digital signage content to mobile phones. Its flexibility makes it possible for it to be operated through mobile phones. While displaying content on these digital systems is quite important, being able to deliver the same quality of content to mobile devices will increase the feeling of connectedness.
7.An Added Security Measure
The safety of the students and staff of an educational institution is of topmost priority. This is why it is imperative for educators to not hesitate to invest in added security measures that are sure to guarantee the safety of their wards, at least to a certain extent.Digital signage in schools plays a major role in ensuring the safety and peacefulness of students and staff. Asides being invaluable in emergency situations, digital signages could also be used to inform students of certain precautions to take when they find themselves in potentially harmful situations. A designated screen could be placed around the campus indicating what helplines to call in case of emergencies and what other steps to take. Content could be created towards educating students on how to practice self-defense or the necessary precautions to take in particular buildings/ongoing construction sites.This content medium always gets noticed and this way, getting the students to follow the security protocols will not be as much hassle as it used to be.
8.Encourages Valuable Feedback
To create content that is capable of sparking any kind of response from its targeted audience, it is important that the content creators understand what the needs of that
audience are. For schools, the target audience is the students (and members of staff) and to reach them, content must be tailored to their interests. One way to tailor this content to their interests and provoke valuable feedback is through digital signage.Digital signages in schools can be instrumental in gathering data from students in a fast and more effective way. Conducting polls and surveys through questionnaires and other means could get tiring and unproductive. But because digital signage content in schools is presented in mediums designed to be visually appealing and captivating, it is easier to get the attention of those students.Given the flexibility and interactive nature of digital signage content, students and staff can share their opinions or make their choices on certain issues from the comfort of their mobile phones. There would no longer be a need to test run ideas on the students and watch for which one would yield good results and which one would flop. This would help the institution make better policies and implement them. After processing the data, the results could also be displayed for all to see, making the audience feel like they are important elements in the decision making process.
9.Enhance Community
School is way more than a learning environment. Since students spend a good amount of their time in its premises, it is safe to say that their school life is a very important factor in determining what kind of social life they will lead as adults. With digital signage solutions for schools, educators can work at developing a community among the students that would even transcend the duration of their individual programmes in the institution.
Digital signage can be a great way for keeping students up to speed on what their schoolmates in other departments are doing and what waves they are making. It could be a platform for students to celebrate their individual and collective achievements. Educators could also go a step further to implement live data like live streams and even social media content to foster more collaborations.Such content needs to be highly motivating and geared towards building a healthy community of successful students.
10.Saves Cost And Time
Educational institutions that implement digital signage solutions enjoy better use of their timeand resources, while managing to achieve better results. The traditional methods of communication which involve the use of print mediums like fliers, posters, and the rest have grown to be less appealing and more expensive. Usually, in order to pass a single piece of information, institutions would have to go through the time-and-resource-consuming process of drafting, designing, printing, and eventually distributing the fliers/posters. This paper-based form of communication is not only stressful, itis also wasteful and dangerous to the environment. With new educational communication methods like digital signage solutions, all these worries become nonexistent. Investing in digital signage software is a one-time affair, except when you have to make constant software updates or pay maintenance fees. Regardless, as far as cost is concerned, it is way cheaper. It's a great time management tool that also doubles as a very effective communication platform. You simply cannot go wrong with digital signage solutions.
Digital signage is a gift that keeps giving, an innovation that educators have to key into to enjoy its countless benefits. By understanding how big of a role digital signage plays in education and acting accordingly, educators would be able to make better decisions in enhancing the learning experience of their wards.