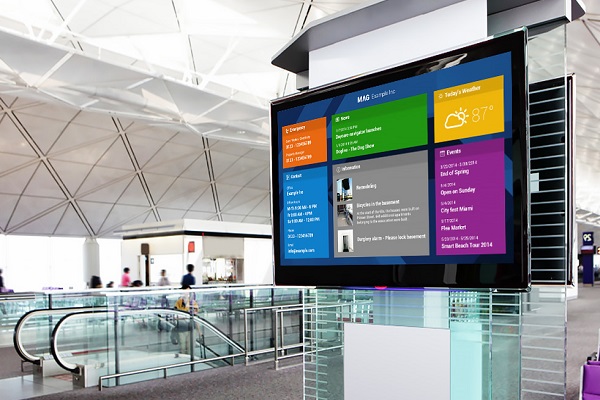 Today, It's no longer news that people are easily attracted to eye-catching and engaging photos and videos. As a matter of fact, the human brain process visual content at insanely high speed — even up to 60,000 times faster than text. Moreover, up to 90% of the information transmitted to the brain is visual. This is precisely why most if not all modern businesses use visuals to engage their returning and potential customers via multiple platforms outside their store. Think the convenience of online shopping where shoppers can purchase just about anything they want with a few short clicks!
But have you given thought to how you can create such an interactive experience right inside your store? This is exactly where digital signage comes into play.
Here's the thing; if you're looking to capture the attention of today's digital-savvy customers, your traditional store will need to up its game and embrace what has made e-commerce a massive success. Put another way, your business or brand must invest in digital signage. Remember, it only takes an average of eight seconds for potential customers (humans generally) to get distracted and move on to something else. That said, it's critical to keep them hooked before those eight seconds run out and trust us, nothing works better than digital signage. The best digital signage solutions from ads2grid may be just what you need to take your business to the next level regardless of whether you're looking to increase sales, improve employee engagement, promote a new product or boost brand awareness. What more could you ask for?
So what now?
Well, At this point, chances are you're all fired up to ditch paper and switch to digital. Or put another way, move from passive to Interactive. But of course, if you're still a bit hesitant, here are a few good reasons why you should take the plunge today.
Entice your Customers
Yes, the "Wow" factor. Every business needs this to stand out especially when it comes to going above and beyond for its clients. The thing is, regardless of how mundane your brand offerings are, if you can present them perfectly to the right audience, you will not have to worry about breaking even. Perhaps one of the best and most effective ways to Wow your customers is through interactive digital signage. Digital displays boast an incredible charm that easily engages and entices potential customers. For example, clients will be thrilled to find touch screen displays in stores that allow for a seamless shopping experience. Incorporating in-store interactive maps can also turn out to be a big plus — being able to find whatever item they want with ease could be the difference between getting a loyal client or one who wouldn't want to stop by again. It's also worth mentioning that most people are likely to visit a store because of its signage and even recommend the same business to a friend. 
Improve Brand Image
This is yet another reason why you should adopt digital signage. Digital signs can drive incredible results regardless of whether you're looking to spread the word about your business or elevate your brand image. Customers are always drawn to high-quality displays that elicit a sense of authority and reliability. You might not know this but most people are willing to spend big bucks on services that offer top of the range amenities. That said, if you can install digital signage hardware that promises excellent customer service and lesser wait times, customers won't mind paying premium prices. Digital signage may also be invaluable when it comes to promoting new products or services in the market. This of course can be done via demo videos for public displays which eventually educate and capture the attention of the right target audience. 
Cut Cost
While it may be a bit expensive to switch to the world of interactive digital signage, in the long-run, you'll be able to save massively on your signage costs. In fact, you can save up to 90%! When you finally decide to ditch print communications, you will no longer have to worry about printing banners, flyers, posters, or billboards. And that of course means reduced costs for paper, ink, and the likes. Moreover, using less paper is good for the environment. What could be better than that?
Reduce Waiting Time
Equipping your business with digital display screens can go a long way in helping customers find the products or services they're looking to purchase. Proper positioning of these interactive digital displays can improve the overall shopping experience thus reducing wait times and improving customer satisfaction. That said, if you run a store, restaurant, or even a spa, you certainly won't be wrong to make digital signage a big part of your business development plan. Remember; customers hate to wait (it's an inevitable part of human nature) so be sure to always do what you can to trim down the wait time (at least to a reasonable extent).
Top Ideas to Transform your Business Using Digital Signage
Looking to step into the world of interactive digital signage for the first time? Or are you just thinking of ways to revamp your existing screens? If yes, chances are you're stuck trying to figure out what to promote. In-store digital marketing demands creative thinking so yes, the feeling isn't uncommon. Here are some bright ideas you won't be wrong to start with. 
Show the Value in a Product or Service
It's always critical to emphasize the value of your brand's offerings. It doesn't matter if you own a retail store, restaurant, or hospital; be sure to do your best to explain why your products and services are valuable. Customers need to understand that your business has what it takes to give them the best value for money. For instance, if you own an auto repair shop, your digital signage can emphasize parts and service guarantee. For a retail store, the screens may explain the quality of your products. The most important thing is to ensure that customers get an idea of the "why" behind your brand. 
Advertise a Product or Service
This is perhaps one of the most effective ways to spread the word about your core products and services. Yes, with the right digital signage content, you can advertise your brand's offerings and evoke strong emotions in potential customers. Of course, this could be done with posters but if you're looking to send a more direct and engaging message to your customers, in-store digital signage is sure to be your best bet. 
Educate Customers
You might not know this but providing customers with relevant information (brand-focused or otherwise) can be as valuable as advertising your products. And since people are more receptive to digital content (photos and videos), you can be sure of attracting the right customers to your brand. It's however important to note that this may not turn prospects to paying customers right off the bat, but the positive experience will definitely leave a memorable impression (which of course is a good step towards getting a loyal customer). 
Create a Sense of Urgency
Trying to figure out a highly effective way to upsell at the point of purchase? Well, just create a sense of urgency — give your customers a glimpse of how they can fulfill their needs quickly. At this point, you can use your digital signage to advertise a discount on a particular product or if need be, a store-wide percentage off. The key takeaway is to ensure that your customers have a strong desire to purchase whatever product you're advertising on your screens (at that moment). Remember, urgency is all about need — so be sure to understand your target audience and make it count.
Make it Fun
Remember, your clients are already accustomed to the ease of online shopping — they can just decide to get what they want with a few short clicks. But if they choose to take a trip down to your store, you might as well make the experience fun and memorable. The good thing is, you can achieve this and more with digital signage. It's basically a matter of knowing what appeals to your customers and of course, creating fun content that's sure to make their visit worthwhile. 
Wayfinding
Static or interactive — either way, digital signage at the entrance (or even inside the store) of your business can help customers find their way around. This can save customers valuable time and eventually boost sales. 
Communicate with Your Staff
Screens to communicate with your staff? Well, of course! The whole idea of digital signage shouldn't have to be focused on your clients alone. You can also invest in screens (mostly behind the scenes) to tell a thing or two to your employees. It could be a shout out for excellent work or just to let them know of some changes in the business. Whichever the case may be, digital signage is sure to get the job done. 
Get Social
With interactive screens all over your store, it's only intuitive to take your social sharing game to the next level. Since people are caught up in the love of all things digital, you can take advantage by sharing your business social media handles to get people like, follow, and whatnot. Of course, you can place the screens at strategic points (either at the entrance of your store or even right inside). Just be sure to give them a glimpse of what they'll get by liking your page or following your feed. This could be everything from exclusive deals to discounts to up-to-date information and more. 
Show off Awesome Customer Reviews
Generally speaking, you can display customer reviews on your website and social media (yes, this always works). But how about you kick things up a notch by showing them off right on the screens in your place of business. You should know that most if not all buying decisions are made at that point of purchase, so it's critical to ensure that potential customers see your products and services as top-notch. Showing off reviews of satisfied customers via engaging in-store digital signs can reinforce and influence buying decisions (even in ways you never thought possible). 
Promote an Upcoming Event
Got a big event coming up at your restaurant? Or maybe a celebrity guest is visiting your spa? Put it right on your screens. Let people know so they stop by at the event. This is of course a great way to attract new customers (most especially if you place digital displays at the entrance of your business). 
FAQs — Display the Answers
Your in-store digital signs can also feature common questions customers are likely to ask at the point of purchase. For example, if you get the same questions from different people over and over again, you might as well display such answers on the screens. If you own a restaurant, you could provide answers with regards to the ingredients in your food. Or if your menus cater to vegans. Just think about questions people are likely to ask and of course, make it easy for them to figure out. 
So there you have it. With all that has been said, it's clear to see just how digital signage can transform your business and deliver better outcomes. With the right application, you can do everything from selling more products to entertaining your customers (and keep them coming back for more). It's however important to note that getting a digital sign isn't the end of the journey — you will need to ensure that the content is relevant to your target audience. Get it right and you can be well on your way to standing out from the crowd and even better, breaking even!