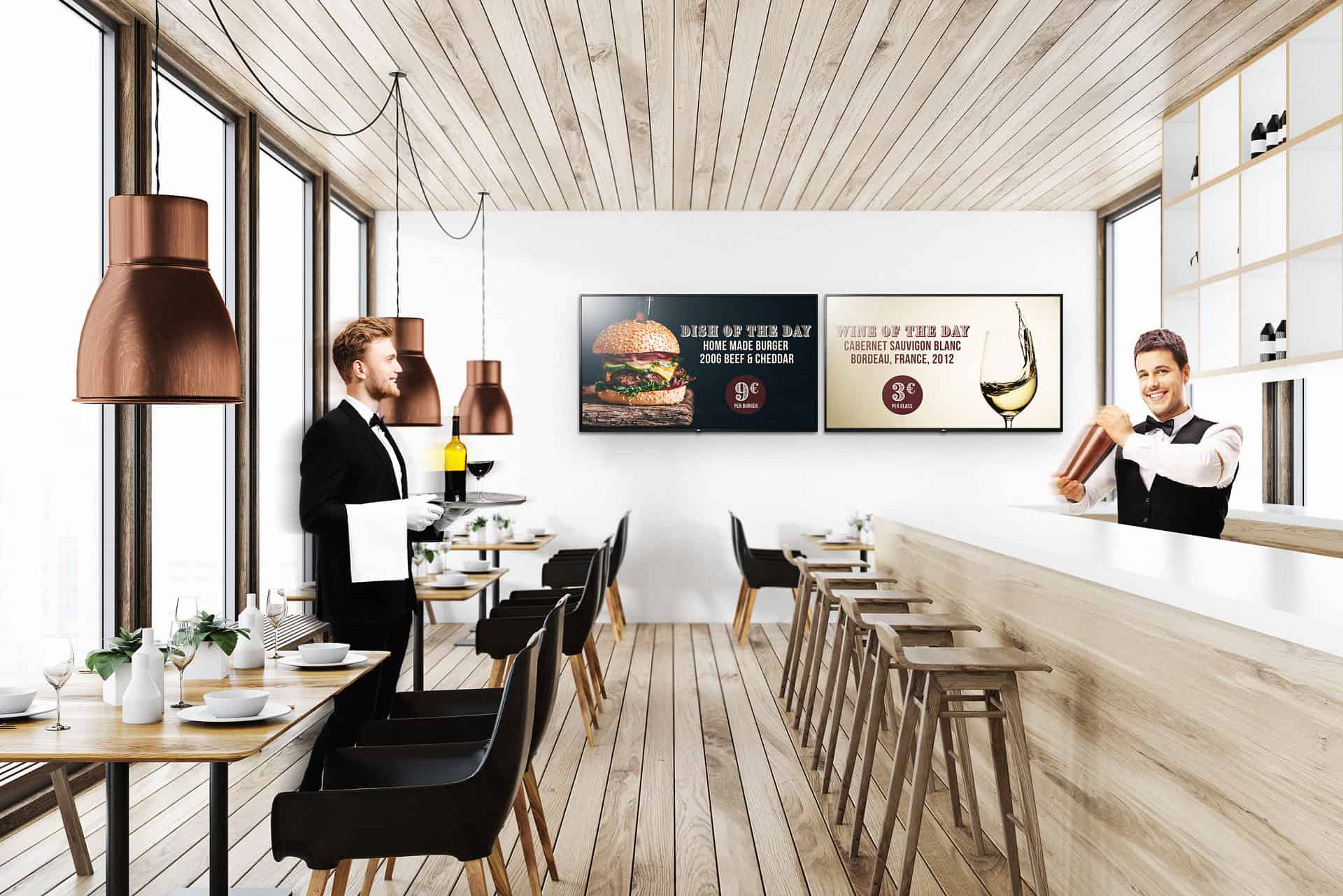 As technology continues to advance, we continue to discover new and better ways to make things happen and achieve better results. The continuous improvements in digital signage technology has made it a very essential tool in the hands of business owners and marketing specialists. 
Restaurants that implement digital signage solutions, for one, record higher engagement and satisfaction with their customers than the ones who do not. Using digital signages software in a restaurant or in a fine dining establishment ensures that the customers are shown the different offers and services the business provides in vivid and attractive images and videos that are constantly updated. 
By grabbing the attention of the customer in this dynamic and savvy way, their overall eat-out experience is improved upon. Explored below are six ways restaurants can use digital signage to optimize their customers' satisfaction
1. Place in the Window Display
A lot of restaurateurs tend to overlook how important and grossly underutilized their windows are but that is a trend that is gradually changing. Digital signages can be placed in an outward-facing window of the restaurant, positioned in a strategic elevated position that would ensure that every person that passes by your restaurant sees it.
People might not always know how good your restaurant is unless they hear it from another party. With digital signages, you do not have to wait for such breakthroughs. Restaurants can take matters into their own hands by working on attracting customers that are not even in the restaurant. By displaying mouth-watering deals, special dishes, special combo offers, the menu of the day, or even customer ratings, passers by could get attracted and decide to drop by for a taste. 
In choosing the screens for this venture, you must consider screens that are designed to counter the brightness of the sun, so that people would be able to see it at any time of the day. Ensure it also has a surface cooling fan, and many other features that would ensure it passes the information across even in an unusual environment.
It is a great advertising goldmine that would inevitably attract more people and therefore drive more sales.
2. Provide Digital Menu Boards
Like the name suggests, a digital menu board is designed to present the offers available in a restaurant in a more convenient and attractive way using digital signage technology. The digital menu boards have managed to outshine the printed static menu boards and it is for good reason. 
As opposed to looking at a boring piece of paper, digital signages with menu boards displayed on them are visually appealing, and therefore more engaging. They make ordering food easier for both the customers and the staff since it is possible to deduce what they really want and what is available from what is displayed on the screen. By using enticing graphics and engaging video illustrations, your customers would get a realistic depiction of what the food looks like. Another great benefit of the digital menu boards is that it can be updated as many times as possible (you could change prices, take some sold-out items from the list and even introduce new spicy specials). With a digital menu board, you also spend less because you do not have to design, print, and install new posters everytime you need your menu updated. It really reduces the hassle!
Using digital menu boards also directly leads to more sales for the restaurant. This is because the more attractive a meal looks, the more buyers it is going to get. According to a research done in Iowa State University, visual effects have a large role to play in the decision making process of customers. The study also reiterated that seeing pictures of different kinds of food have the potential to change the ordering habit of a customer. According to Smarandescu, "If you can't see what an item looks like you have more uncertainty in a way. By seeing a picture of an item that looks good, that will likely influence choice." 
3. Operate a Digital Ordering System
This is yet another amazing way restaurants can use digital signage. Restaurateurs can make use of touch screen digital signage kiosks where they can display all the items on their menu and give customers the opportunity to make their own selections individually. It is exactly like operating an eMenu system or setting up a self-ordering kiosk where customers put in their orders and wait until it's ready.
One major objective of digital signage solutions is to create engaging visual content that is interactive and practical to the customer and this digital ordering system is all of that. It is not only convenient, it is also fast and effective, saving the time of both staff and customers. It is also the perfect opportunity to make your customers buy more by offering them diverse options, prices, and other special offers. It can also be used to gather data easily. Restaurateurs can determine which combo is selling fast and which one is not having as many orders. This would help the company make better customer-centric decisions. 
Operating a digital ordering system has also been known to trigger an increase in sales. This is because, by giving the customers enough power and time to go through the menu, they are most likely to make more impulse purchases than they normally would with a waiter hovering over them with a writing pad. With a digital ordering system too, the risk of human errors is very minimised. By having total control of what the system registers as their order, cases where miscommunication would have cost the customers' order are eliminated. Also, imagine not having your staff receiving phone calls with orders all the time or having to deal with hungry and impatient visitors. This would give them enough time to focus on other aspects of the business that are more profit-driven.
Implementing this technology in a restaurant will give it an edge over the other competitors, because of the elevated customer experience.  
4.Reduce the Perceived Waiting Time
The greatest source of frustration for a hungry customer in a restaurant is having to wait their turn. Nobody likes to wait, even if it is the reasonable thing to do. And it doesn't matter how large or staffed an establishment is, some customers might still need to wait their turns on queues before being attended to. 
Using digital signage technology, restaurateurs can make this experience less frustrating. One of the ways this technology could provide a solution is by using digital screens to reflect the estimated time a customer would have to wait for their order. This move will give the customer a sense of control and also anticipation as they watch the clock count down. 
When the customer is in the dark on how long it would take for their orders to get ready, they get antsy and impatient even if they have been waiting for less than five minutes. Displaying the waiting time will help the customer decide if they want to wait around the queue for the order or look around the restaurant while they wait. It gives them a control over how they spend their time, thereby reducing feelings of impatience and anxiety to the barest minimum.
It is always a better and more reassuring feeling when you look forward to something.
Another way digital signage can be very useful in helping customers reduce the perceived waiting time is by providing engaging content in the waiting areas. People would get distracted easily by visually appealing content on large digital screens. This is a fact you must use to the advantage of your restaurant. Keep your customers busy while you work to provide them excellent service. And before the customer knows it, it would be like time never passed by at all. That's excellent service right there! 
5.Build an Online Community Through Social Media
A restaurant can use digital signage software to create a buzz surrounding their own food and encourage their customers to join their online community. Restaurateurs can use digital signage to show the social media feed of their pages, the beautiful pictures, their responses, food hashtags, and even sponsored customers.
There are several ways through which you can get your customers to join your online community. One of the suggested ways to accomplish this is by getting your customers to take pictures of their orders, include a review and stand the chance of having their entry on the restaurant's official page. They could also be encouraged to share their favorite moments in the restaurant, ther favorite meal, or even a family recipe. You could even conduct friendly competitions where the winners could get money-off coupons or free meals.
This would also affect the offline presence of the brand because It is without doubt that the kind of social media presence a business is able to gather will grossly affect how good the business would do. This is because social media has since become a very important tool in the hands of marketing specialists. 
Asides displaying mouth-watering food photography for your customers to enjoy on the HD screen, you could also update it with reviews. Certain people would never patronise a business until they read a review. First-time buyers might be skeptical about certain offers and combinations, but seeing a review from a trusted platform will reduce all anxiety. If you can get a good rating on ratings websites or from public figures, then your digital signage screen might be the best place to let everybody know how far the business has come.
These are great ways to build an influential online profile for your restaurant. 
6.Cross-Sell and Upsell Other Items
To increase sales, a restauranteur could influence the customers to buy additional items or opt for a more expensive option. This is called upselling. With cross-selling, a customer is persuaded to buy something closely related to what has been bought already. Both these terms are very instrumental in determining the profits a restaurant is able to accrue over time. Through the use of big digital screens and their timely content, a restaurant could share a catalogue of their special offers, meal combinations, new features, and so on and inspire those decisions. 
The best time to do it is when the customer is lounging around, probably waiting to collect the simple order they've already made. Through the use of eye-catching and riveting graphics and also very informative presentations, a customer might be coerced into 'just giving it a try.' Since it is easier to sell to an old customer than a new customer, the customer leaves feeling satisfied because he or she has been made to believe that they made an excellent purchase choice.
Imagine you run a steakhouse. Your digital board would probably display how a tall glass of red wine is the perfect combination with your steak. You might go the extra mile to show mouth-watering videos of people enjoying their steak and wine and also recommend the perfect kind of wine for the steak. Watching this might psychologically influence the customer into buying a bottle of red wine that was never on the budget. You can also upsell products by advertising seasonal or time-limited offers, highlighting the product's features, advertising additional benefits and incentives, promoting special offers that would help your customer save, and even introducing new products. The options are literally endless. 
At the end of the day, it is a win-win for everybody. You are able to drive more sales and your customers get a better eating experience.
A restaurateur's greatest need is finding new and dynamic ways to improve on the overall customer experience and satisfaction in their restaurants. By implementing any or all of these six ways restaurants can use digital signage, that feat can be accomplished quite easily. If making more profit and creating better and unforgettable dining experiences through the use of cost-efficient and user-friendly solutions is the goal of your establishment, then you simply cannot do without digital signages.